Listen to the single also on:
Listen to the single also on: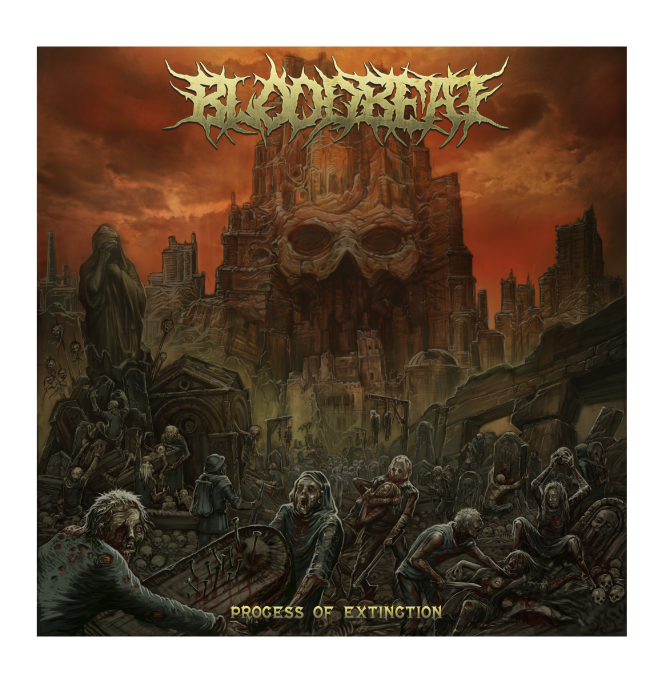 Our new album PROCESS OF EXTINCTION will be released on June 18th via Inverse Records
Mixed & Recorded by Marc Wüstenhagen
at Dailyhero Recordings Berlin.
Mastered by Gunnar Refardt.
Cover Artwork by Alex Tartsus.
More news will follow! Stay healthy – stay tuned!
All rights reserved
BLOODBEAT ist eine Death Thrash Metal-Band aus Berlin. Mit schweren Riffs, brutalem Gitarrensound und zerschmetterndem Drumming, das einer Dampfwalze gleicht, schafft es die Band den ultimativen Death Metal Klang der 90er zu reproduzieren und gleichfalls einen eigenen Charakter hinzufügen. Die brachiale Stimme von Sänger und Gitarrist Jason fügt dem rauen instrumentalen Kern der Musik die passende Schale hinzu. Die Band verpasst den Zuhörern mit wiedererkennbaren Death-Metal Riffs und zerhackenden und brachialen Thrash-Beats eine gewaltige Druckwelle ins Ohr. Bloodbeat schaffen es, trotz ihrer hörbaren Einflüsse wie Napalm Death und Slayer, einen eigenen wiedererkennbaren und markanten Musikstil zu kreieren, der die Zuhörer sofort in die Vergangenheit des 90er Jahre Death-Metal schleudert. Textlich offenbaren und wiedergeben Bloodbeat Gräueltaten und Abgründe der Menschheit.
Mitglieder: Jason Kuhn (Gitarre & Gesang), Paul Hopp (Drums), Daniel Dokic (Gitarre), Fux (Bass)
Gegründet: 2014
Herkunft: Berlin
listen to our discography
Bloodbeat - Murderous Art (Album CD)
incl. 12 Tracks.
(Limited to 100 Copies)
01. Art (Intro)
02. Into Death
03. Parasite
04. Deadly Road
05. Trapped in Concrete
06. The Nameless Madman
07. Medical Skull
08. Nightmare Scenarios
09. Worst Instant
10. Infected
11. Reborn Into Demise
12. Murderous Art
13. Demonic
Music/Lyrics written and performed by Bloodbeat.
Produced by Exx Studios and Bloodbeat. Mastered by Kinskinoize Berlin. Cover Artwork by Z. Beksinski.
All rights reserved.
02. NOV, BERLIN, Huxley's
02. NOV, BERLIN, Huxley's
02. NOV, BERLIN, Huxley's
02. NOV, BERLIN, Huxley's
02. NOV, BERLIN, Huxley's
02. NOV, BERLIN, Huxley's
All events are cancelled due to COVID-19. We are sorry!